Badge AIR runtime installation bug with Firefox
I found out that there's a bug with the badge used to install an AIR application with Firefox from version 3.6.4 until today's version (3.6.6).
If you don't have the AIR runtime installed a Adobe UI should pop up to show a progress bar and install the runtime. The trouble is that nothing happened at all after clicking on the YES button.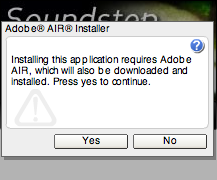 To test the bug, uninstall your AIR runtime and test the badge in this page.
The problems is very inconsistent, sometimes it works and sometimes it doesn't.